The Legacy of Bob Feller
---
Feller's legacy in baseball extended past the mound. He worked to establish a pension fund for major leaguers after their retirement, with a dispute with Commissioner A.B. "Happy" Chandler over a potential offseason appearance in Cuba leading to Feller donating his potential winnings to such a fund. This fund helped former big-leaguers who were not as lucky as Feller to stay out of poverty.
Feller's peers also elected him president of the Major League Baseball Players' Association in his final season. He used this position to advocate to Congress for a change in the reserve clause in players' contracts.
Largely, though, he was remembered for his accomplishments as one of the most dominant pitchers in the history of the game.
"I don't think anyone is ever going to throw a ball faster than he does.," said Joe DiMaggio. "And his curveball isn't human."
Ted Williams shared in that sentiment.
"(Feller was) the fastest and best pitcher I ever saw during my career," Williams said. "He had the best fastball and curve I've ever seen."
This is despite having missed three full seasons and most of a fourth in duty to his country. Many people have speculated on what Feller's career totals would have been had he pitched those four seasons. The most common assumption is that he would have won at least 350 games and struck out around 3,500 batters.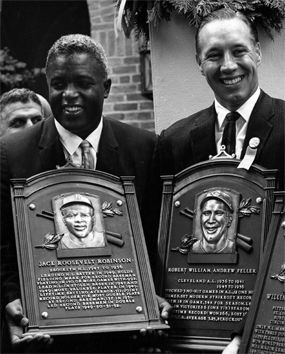 Feller does not consider himself a hero for having left to serve in the war. He often opined that, "the real heroes didn't come home."
The Indians organization retired Feller's number 19 and elected him to the team's Hall of Fame in 1957, later adding a statue of Feller delivering a pitch when the team opened what is now Progressive Field. The Baseball Hall of Fame followed suit in 1962, with writers electing him in his first year of eligibility. He was enshrined in Cooperstown with fellow legend Jackie Robinson, of whom Feller said sharing this honor was particularly meaningful.
Feller served as an ambassador for baseball, and for the Indians in particular, for the rest of his life. He briefly served as a pitching instructor in Japan as well.
He regularly appeared in uniform even up to his 90th birthday, representing the Indians at games, fantasy camps, and numerous other appearances. He also became the first player to regularly appear at memorabilia shows to sign autographs.
He also helped to establish the Bob Feller Museum in his hometown of Van Meter, which displayed memorabilia from both his baseball and military accomplishments – including a bat of his that cancer-stricken Babe Ruth used as a crutch in his final public appearance, on Babe Ruth Day at Yankee Stadium. Though the museum eventually closed and largely merged with the Indians Hall of Fame at Progressive Field in Cleveland, a collection of Feller memorabilia remains at the building. In addition, the building itself is a tribute to Feller, with a bas relief memorial to Feller on its north wall so anyone who enters the town can see it.
Feller pitched in a game as recently as 2009, facing other legends at Doubleday Field in Cooperstown. He remained active until the last few months of his life, and passed away from complications from leukemia in Gates Mills, Ohio, in December, 2010.
In addition to his wife, Anne, and three children, Bob Feller left behind an enduring legacy of achievements and military service, and the Indians named two awards after him. He remains the pride of Van Meter to this day, and the city continues to honor him in several ways, including the building, a trail, and an award for deserving high-school pitchers.