A Triumphant Return
---
Feller picked up right where he left off.
Two days after his honorable discharge, Feller found himself pitching in Cleveland Stadium. Despite not having pitched in the major leagues in almost four years, he still struck out twelve Tigers and surrendered only four hits in a 4-2 victory.
In his first full season back on the mound, Feller showed the American League that he was still as dominant as ever. He amassed 348 strikeouts – the most strikeouts by any big-leaguer at that time since Rube Waddell's 349 in 1904 – and added career-best totals of 48 games played 42 games started, 36 complete games, ten shutouts, and 371.1 innings pitched, all of which led the league that year. He also won a league-leading 26 games and had a career-best 2.18 ERA.
In his fourth start of 1946, he walked into Yankee Stadium on April 30 and walked out with his second no-hitter. This no-hitter was the first one ever pitched against the Yankees at The House That Ruth Built, and it came against a vaunted Yankee lineup that included Hall of Famers Joe DiMaggio, Bill Dickey, Phil Rizzuto, and Joe Gordon.
During this time, the Indians worked with the Army to borrow ordnance equipment to test the speed of Feller's fastball. The equipment was set up at home plate before one night game, with Feller pitching to a catcher stationed directly behind the equipment. Throwing 30 pitches, Feller averaged 98.6 mph. He later threw a 107.9-mph fastball at Griffith Stadium, which to this day is still the second-fastest pitch ever measured.
1947 was more of the same for Feller, as he again posted league-leading totals in wins (20), games started (37), innings pitched (299), and strikeouts (196). Before the season started, he had organized barnstorming team of major-league players to take on a team of negro-leaguers organized by Satchel Paige – a lucrative venture for all players involved, as they made more in the 22-game tour than the St. Louis Cardinals had received in World Series shares a few months before.
Feller threw his record ninth career one-hitter in his second start that year. However, on June 13 that year, he slipped while throwing against the Athletics in Shibe Park and hurt his back, compromising his pitching ability in the process. "My fastball was never the same after that," Feller later acknowledged.
His performance started to slip in 1948, as his back – and the mileage on his arm – started to take its toll. He still led the league with 38 starts and 164 strikeouts, but his numbers were no longer elite. He was selected to play in the All-Star Game (he had been selected six times before) but declined, as he did not feel himself worthy of the honor.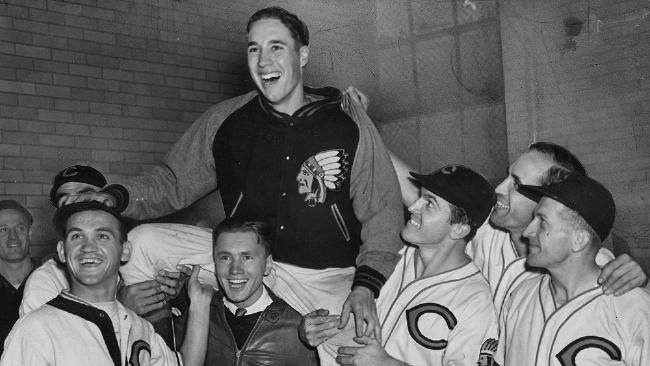 Indians manager Steve O'Neill decided to keep pitching Feller, not only because he drew fans to Bill Veeck's club but also because he felt that Feller represented the team's best chance to win. His gamble paid off, as Feller won 19 games and, along with fellow ace Bob Lemon, led the Indians to their first World Series in 28 years. Although Feller lost his two starts in the Fall Classic, the Indians won, giving Feller the only championship in his fabled career.
Feller's peak was behind him by this point, as 1949 and 1950 saw declining numbers – still solid totals by most standards, and an All-Star again in 1950, but no longer elite. In addition, injuries became a stronger factor, as he hurt his shoulder to begin the 1949 season.
He won a league-leading 22 games in 1951, adding a third no-hitter to his resume. This no-hitter came at the expense of the Detroit Tigers at Cleveland Municipal Stadium. He became the first pitcher to throw three no-hitters since Cy Young had accomplished the feat 43 years before him. Fellow Indians Lemon and Mike Garcia also won 20 games, becoming the first trio of 20-game winners on one staff in 20 years. Feller also won the Sporting News Pitcher of the Year Award in the American League.
Feller pitched for another five seasons after that, helping the Indians to another pennant in 1954, though he did not appear in the World Series that year. He retired after the 1956 season, with a career total of 266 wins, 2,581 strikeouts, 44 shutouts, three no-hitters, and 12 one-hitters.