Growing up in Van Meter
---
Robert William Andrew Feller was born on November 3, 1918, on a farm just outside of Van Meter, Iowa, to parents Bill and Lena. Bill Feller owned 360 acres of farmland a few miles east of Van Meter, where he grew crops and raised cattle and hogs. When he was old enough, little Bob was tasked to help his dad with the chores, as most young farm boys have experienced.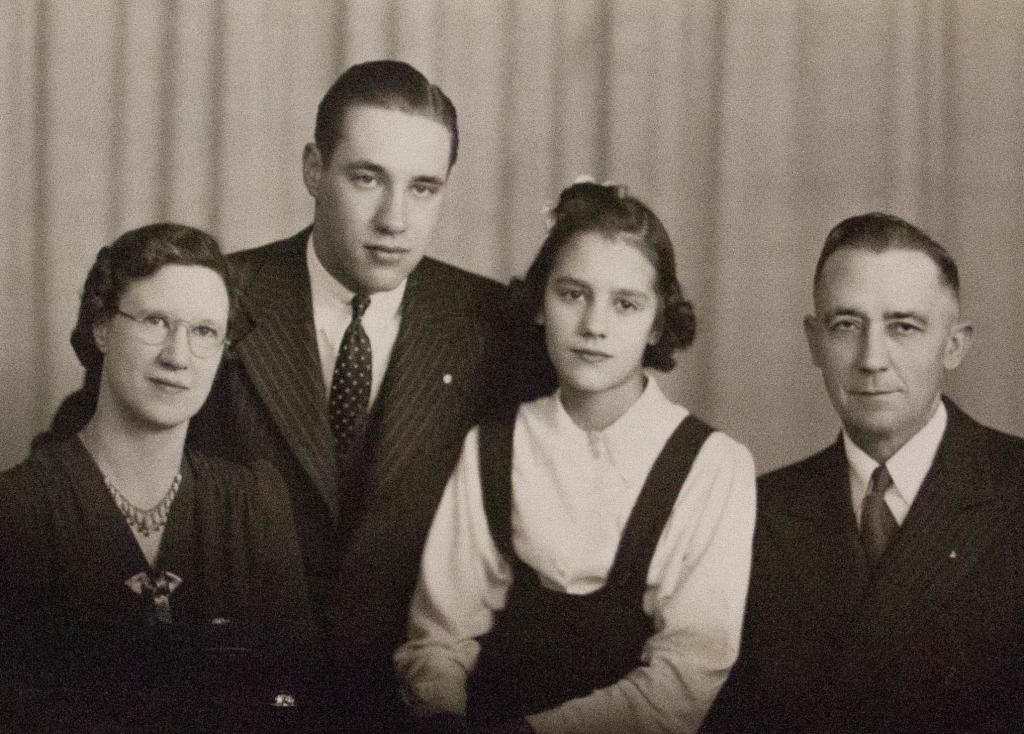 When not tending to farm duties, Bill Feller raised Bob on baseball. They listened to Chicago Cubs games on WHO Radio in Des Moines, which were broadcast by future President Ronald Reagan. Bill also devoted part of his farmland to baseball, constructing a field that included a modest grandstand and a scoreboard in which both would play with local teams – Bill with a group of his friends and Bob with local kids his age, both teams using the name Oakdale after the name of the plot of land.
Bill also helped Bob hone his talents in his new hobby – pitching – in other ways. The land between the Fellers' house and barn was slanted downward at an angle that mimicked throwing off a mound, and they set up a makeshift pitching rubber and set a couple wooden slabs down to make a home plate, and Bob would spend his free time throwing to his father. Often this would happen after father and son had spent the past several hours shucking corn, but with the boundless energy of an adolescent, Bob would still want to throw to his father, who would oblige despite his hands hurting from the day's work.
"My father loved baseball and he cultivated my talent," Feller said. "I don't think he ever had any doubt in his mind that I would play professional baseball someday."
In the winter months, Bob would continue throwing, going into the barn, shutting the door behind him, and using the door as his target. The door eventually needed to be replaced due to the emerging fastball that the youngster displayed.
Bob eventually joined an American Legion team in Adel, where his performance garnered region-wide attention. Despite this team being comprised wholly of teenagers, it arguably contained the most legendary battery in the history of baseball in Iowa, thanks to Feller on the mound and his friend, future Heisman Trophy-winning Iowa running back Nile Kinnick, behind the plate.
Large crowds came to watch as the hard-throwing kid on the Adel team dominated the opposition, reaching the state championship game only to have to forfeit thanks to a teammate being a mere two days too old for eligibility. He also continued to play for the Oakview club, the Farmers Union AABC team, and the Van Meter High School squad. By this point, local newspapers had begun to follow Feller's exploits on the mound, and Cy Slapnicka, an Iowa native who scouted for the Indians, decided to take a look. One look was all Slapnicka needed to know that he had to sign Feller.
"I sat down on an automobile bumper and sat there for six innings. It must have been an uncomfortable seat, but I never noticed.," Slapnicka recalled. "All I knew was I was looking at an arm the likes of which you see only once in a lifetime."
Slapnicka hastily drew up a contract to sign Feller to a team in Fargo, North Dakota, though ostensibly for the Indians thanks to the team's relationship with the Fargo club, with a signing bonus of one dollar. Bill Feller had to co-sign the contract because Bob was still a minor at the time.
Slapnicka had Feller's contract transferred to the New Orleans Pelicans of the Southern Association, though Feller did not report to either Fargo or New Orleans – the contractual issue was a technicality to stash Feller away from other teams. Major League Baseball Commissioner Kenesaw Mountain Landis determined this to be against the best interests of baseball. Feller instantly resigned with the Indians, and by 1936, at the tender age of 17, Bob Feller was a big-league ballplayer.