Book Club
The Van Meter Public Library hosts a book discussion every 3rd Tuesday of the month.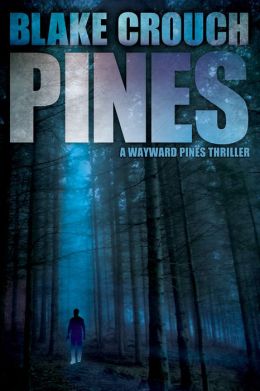 On June 21st at 7pm we will be discussing "Pines" (Book 1 of the Wayward Pines Series) by Blake Crouch. (A 2013 International Thriller Award Nominee)
Summary:
The international runaway bestseller that inspired the most watched show of the summer, from executive producer M. Night Shyamalan, starring Matt Dillon
Secret service agent Ethan Burke arrives in Wayward Pines, Idaho, with a clear mission: locate and recover two federal agents who went missing in the bucolic town one month earlier. But within minutes of his arrival, Ethan is involved in a violent accident. He comes to in a hospital, with no ID, no cell phone, and no briefcase. The medical staff seems friendly enough, but something feels…off. As the days pass, Ethan's investigation into the disappearance of his colleagues turns up more questions than answers. Why can't he get any phone calls through to his wife and son in the outside world? Why doesn't anyone believe he is who he says he is? And what is the purpose of the electrified fences surrounding the town? Are they meant to keep the residents in? Or something else out? Each step closer to the truth takes Ethan further from the world he thought he knew, from the man he thought he was, until he must face a horrifying fact—he may never get out of Wayward Pines alive.
---
Color Happy
Join us and find some fun stress relief on Wednesday, June 22nd, 5:30 – 6:45 PM. Coloring pages and colored pencils will be provided, or you can bring your own!
---
Become a Friend of the Van Meter Public Library!
The Friends Foundation is 501c3 nonprofit that supports the library by fundraising to help purchase items for the collection and materials for programs – like Summer Reading and the programs you see here! Friends also receive special benefits, including a discount on our book sale.
Annual Membership : Give $10 or Pledge 10 Hours – You choose!
Contact the library today to find out how to become a Friend!
---
Sponsor Summer Reading
Summer Reading begins May 23rd with our Kickoff event on Saturday, June 4th, during Raccoon River Days.
People everywhere share a passion for play. This summer, we will explore sports, games, and movement through books, activities, science, art, and more. Challenge yourself, try new things, and most of all have fun!
How it works:
Sign-up and grab a reading-log starting May 23rd! You can get one online, in person at the library, or just stop by between 9-1pm June 4th during Rac-coon River Days. The program goes for 8 weeks, and the last day to turn in logs for prizes is July 16th.
Reading-logs are available for all different ages and reading levels. They are minute based, with bonus-es and special challenges you can complete to get ahead in the game! Prizes will be given out for reaching the half-way point, and a finisher prize for completing the entire log—Plus, your completed log gets you an entry into the Grand Prize Drawing!
Reading is a Team Effort!
The Summer Reading program is for everyone to enjoy, and it's more fun when the whole family gets involved!
The Van Meter Public Library is looking for volunteers and prize sponsors to help us with our summer program: "On Your Mark, Get Set, Read!" This program is designed to encourage reading and learning activities during the summer, so the love of reading and the valuable skills that come with it won't be lost. We hope to offer a variety of activities for children, teens, and adults. If you are interested in helping us, grab a form from the library or print one out by clicking on the link below:
Can't sponsor, but still want to help support the Summer Reading Program? There are many ways to contribute! Contact the library for more details.
---
If you have an idea that you would like to pitch to the library for other adult programs do not hesitate to let us know, as we are constantly looking for other ways for adults to be active through the library. It's a great way to meet people in the community and try new things!
Phone: (515) 996-2435
Hours:
Monday, Wednesday, Friday  :  9 – 5 PM
Tuesday, Thursday  :  12 – 8 PM
Saturday  :  9 – 12 PM